Congress Approval at 12-Year Low
Gallup
by Lydia Saad
April 17, 2006
GALLUP NEWS SERVICE
PRINCETON, NJ -- Public approval of the job Congress is doing has dipped to its lowest level of 2006, and is now the worst Gallup has recorded since the closing days of the Democratic majority in the U.S. House of Representatives in 1994.
According to an April 10-13, 2006, Gallup Poll, 23% of Americans approve of the job Congress is doing, while 70% disapprove. The current approval score is slightly below the 25%-27% range seen since January.
The current 23% approval rating for Congress is a near-record low for the institution. Gallup's trend for this question, which started in 1974, shows lower approval scores on only three other occasions: October 1994 (21%), March 1992 (18%), and June 1979 (19%).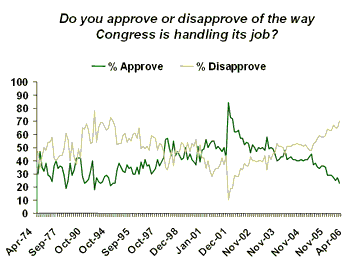 A majority of Republicans, as well as most independents and Democrats, disapprove of the job Congress is doing today. Only 37% of Republicans approve, compared with 19% of independents and 13% of Democrats.
Congress Trend Consistent With Bush Approval
In recent years, the average annual approval score for Congress has steadily declined from the high levels recorded after the 9/11 terrorist attacks in 2001. Congress approval averaged 57% in 2001 and 54% in 2002, and then dropped to 47% in 2003, 42% in 2004, and 36% in 2005. Thus far in 2006, public approval of Congress has averaged 25%.
This downward trend in Congress approval is parallel to the decline in public approval of President George W. Bush over the same period. Although ratings of Bush are consistently higher than those for Congress, the similar changes in approval suggest that Americans closely associate the performance of the Republican-led Congress with Bush's performance.
Despite this long-term pattern, polling suggests that in recent weeks Congress may have earned its own additional negative reviews. While approval of Congress slipped 4 percentage points in the past month (from 27% in a Mar. 13-16, poll, to 23% currently), approval of Bush, at 36%, is virtually the same as the 36%-37% range recorded since mid-March.
Survey Methods
These results are based on telephone interviews with a randomly selected national sample of 1,005 adults, aged 18 and older, conducted April 10-13, 2006. For results based on this sample, one can say with 95% confidence that the maximum error attributable to sampling and other random effects is ±3 percentage points. In addition to sampling error, question wording and practical difficulties in conducting surveys can introduce error or bias into the findings of public opinion polls.